Check out some of the upcoming events on Fort Myers Beach and happenings at Beach Accommodations.
Helping Local Kids! 
Beach Accommodations recently presented a check for over $700 to benefit children at Fort Myers Beach Elementary School.
The proceeds were raised from a campaign selling beach themed t-shirts.  Shirts are still available for sale and will benefit the school!
Upcoming Events on Fort Myers Beach
Fort Myers Beach Friends of the Arts-2015 Concert Series
March 5, 2015 7:00pm – 9:00pm
The Florida Southwestern State College Jazz Ensemble performs, rated one of the premiere jazz organizations in the State of Florida. Comprised of some of the most talented young musicians in the country, the Jazz Buccaneers perform works from all eras of the Jazz story. Audience members are regularly treated to compositions that range from Dixieland to the Jazz Age; Swing era favorites to Be-bop; Cool jazz to Hard Bop; and Free Jazz to Fusion. These outstanding instrumentalists and vocalists truly offer up something for everybody in their celebration of America's very own art music: Jazz! The Greater Fort Myers Beach Friends of the Arts is a 501 C (3) tax deductible charitable organization. Its mission is to facilitate and fund arts presentations in the greater Fort Myers Beach area; enhancing economic conditions and the quality of life.
Visions of the Past – March 7, 2015  
 Mark your calendar for this unique event at Matanzas Pass Preserve on Fort Myers Beach. As you're guided along the boardwalk trail, you'll have the opportunity to visit with the inhabitants of Estero Island in bygone eras! Listen to stories, including facts and folklore, of the Calusa Indians, Spanish explorers, pirates of the 1800s, early homesteaders, island pioneers, and the Koreshans. Plan extra time to tour the Estero Island Historic Society cottage, built in 1921, before or after your guided walk. Space is limited, please call
239-432-2154
or email:
apayne@leegov.com
to reserve your tour. Matanzas Pass Preserve is located at 199 Bay Road, Fort Myers Beach, FL 33931.
 57th Annual Shrimp Festival – 

March 14-15, 2015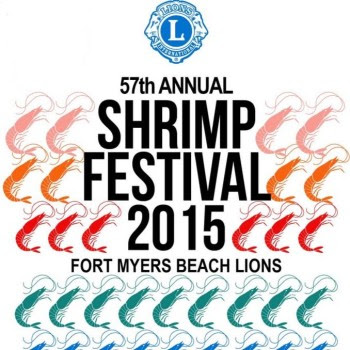 The Lion's Club Fort Myers Beach Shrimp Festival is the largest two-day event on Estero Island! Come join the fun as Fort Myers Beach (the home of the largest shrimp boat fleet on the Gulf Coast of the United States) celebrates its shrimp industry. The festival begins at
10:00 a.m. Saturday, March 14
with a two mile parade marching down Fort Myers Beach's main thoroughfare, Estero Blvd.  The parade will travel from the Fort Myers Beach Elementary School to Lynn Hall Park next to Time Square.   From
10:00 a.m. until 5:00 p.m.
at the Lynn Hall Park the Lion's Club will be offering its famous shrimp dinners, featuring locally caught wild shrimp from the Fort Myers Beach shrimp fleet. Over 100 arts and crafts and fun food vendors will be selling their wares on and near the beach at the festival site. The festival continues on Sunday from 10:00 a.m. until 5:00 p.m. with arts and crafts vendors, fun food and the Lion's Club selling more shrimp dinners until they run out! It's a great family event! Park on San Carlos Blvd at the Lee Tran Beach Trolley lot at the old Winn Dixie Shopping center at San Carlos Blvd and Summerlin Road, and hop a trolley to the festival!
For details visit: http://www.fortmyersbeachshrimpfestival.com/
 Fort Myers Beach Film Festival – April 22, 2015  
 The ninth annual three-day festival will provide movie-goers the opportunity to see quality independent film and be a part of events designed to cultivate the spirit of visual creativity and harbor the talents of local and upcoming film makers. They include a Grand Opening Party, films on the beach, workshops with the film makers, and a Gala Awards Ceremony.
 20th Annual Taste of the Beach – 

May 3, 2015

  
The 20th Annual Taste of the Beach will be held Sunday May 3, 2015. More than 20 restaurants will participate along with live on-stage concerts. Restaurants will offer samples of their signature dishes available for purchase and compete for top Taste of the Beach Award honors in the categories of Best Appetizer, Best Desert, and four awards for Best Entrée. Gates open at 11:00 a.m. Food will be served until 6:00 p.m.
Ready for your beach vacation?  Call us at 1-877-BEACH-IT (232-2448) or visit www.BeachAccommodations.com
to browse available vacation rental properties and rates, as well as view photos, descriptions, and virtual tours!
And…anytime of year, Fort Myers Beach is the perfect place for a quiet getaway, or a fun time for the whole family…with plenty of things to do on land and water!
Enjoy:
Dolphin Cruises & Sunset Sails
Fort Myers Beach Gulf Villas Website!